Derek Armson – Worshipful Master
Derek was initiated into Cestreham Lodge on 25th January 2012, completing six years in the progressive offices before being installed as Master in November 2017.
He works as a Search Engine Optimisation Consultant having run his own Digital Marketing business since late 2006. He built this website!
His interests include football (he's a Watford season ticket holder), cricket having witnessed the 2017/18 Ashes disaster at close hand and music.
His chosen charities for the year are The Troy Deeney Foundation, The Bucks Masonic Benevolent Fund and The Stroke Association in memory of his wife Alison.
A past Charity Steward of the Lodge he says, "I love the charitable aspect of Freemasonry, it makes giving very enjoyable. I also really enjoy learning the ceremonies and the sense of achievement when we deliver great ritual. I have made many great friendships in Freemasonry and received amazing support when I needed it".
Andrew Mais – Immediate Past Master
In March 2010 the inquisitive nature of Andrew got the better of him and he was initiated into Freemasonry and the Cestreham Lodge No.6674.  After 6 years of progressive office he was placed in the Chair of King Solomon in November 2016 as Worshipful Master.
A busy home life with 2 young daughters and a demanding job, Andrew's year as Master was very busy with extra meetings and social events and a fantastic Ladies Night held at Pinewood studios for nearly 100 guests with the Provincial Grand Master for Buckinghamshire also in attendance.
Andrews' three Master Charities for the year, all having played a part in his life were; Teddies for Loving Care, Multi System Atrophy Trust and the Thames Valley Air Ambulance and he was delighted to present them with cheques at the end of his year.
Andrew still finds time to play golf, enjoy family holidays and follow his favourite football team Man Utd.
Andrew is a hard working and dedicated Freemason looking to further his Masonic career and is proud to have led such a vibrant lodge as Cestreham between 2016-2017.
Roger Shaw – Senior Warden
Roger was initiated into Freemasonry in Surrey where he then lived, and in due course served as Master of his lodge there.  Later he moved to Bucks, but the travelling to Surrey inevitably became more difficult and time-consuming.  A friend invited him to visit Cestreham Lodge, where he was warmly welcomed and presently became a member himself.
Roger is married with two adult daughters.  He had several different careers but the two principal strands were as Group Planning Systems Manager for a large multinational, and later running his own Business Intelligence consultancy.  He is now retired, which gives him time for his twin pursuits of falconry and hot air ballooning.
For Roger, Freemasonry was a natural step as his father and grandfather were masons before him; he had grown up seeing the enjoyment and satisfaction which Freemasonry gave them as well as the great amount of charitable work done by the fraternity.  Joining in his mid-twenties meant that he had to balance his Freemasonry with the responsibilities of a young family while also building a career, but he has never regretted joining at that age and is delighted to have found that same enjoyment and satisfaction.
Richard Roberts – Junior Warden and Lodge Almoner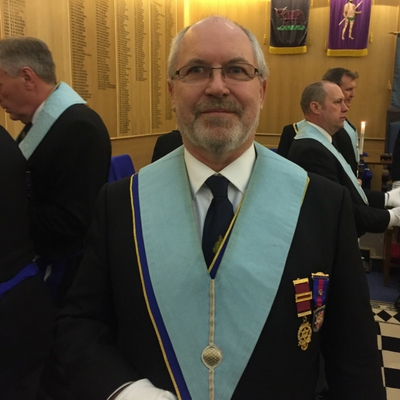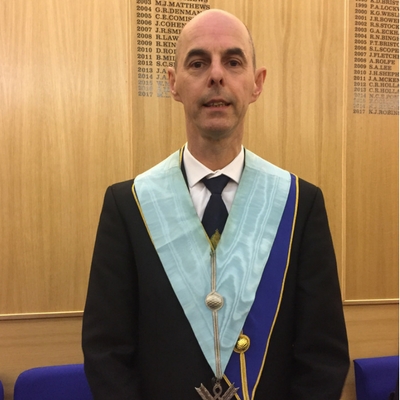 Andrew Ludlow – Secretary
Dick Chapman – Director of Ceremonies and Lodge Preceptor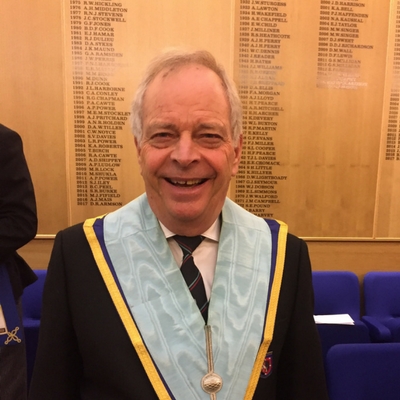 Malcolm Stockley – Charity Steward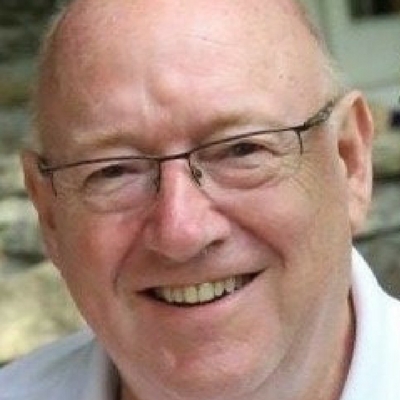 Martin Fifield – Lodge Mentor
As Lodge Mentor, Martin's responsibility is to co-ordinate the Mentoring process within the Lodge. This includes nurturing members on their Masonic journey, providing help, support, guidance and advice, together with a friendly ear to whom they can turn when needed.
The role also encompasses 'Membership' responsibilities. This is all about helping you find your feet as a prospective candidate for joining the fraternity. Martin would be an early port of call to inform a prospective candidate of the qualifications for membership, to provide an initial explanation of what freemasonry is about and what is expected of them as a member of the Lodge.
Martin joined Cestreham Lodge in March 2004.
As with most Brethren joining the Lodge, Martin has been through the six progressive officer positions, before becoming Master in November 2015.
During the intervening years Martin also held the Charity Steward role for several years as well as having undertaken several more informal roles, including organising social events & Ladies nights and has been instrumental in introducing new elements to the way the Lodge undertakes its ritual.
Martin is particularly pleased to have been able to introduce two of his friends to the Lodge. In informal 'friend' chats he had mentioned he was a Freemason, and they in turn had expressed an interest in finding out more about the fraternity. As a consequence, they liked what they heard and joined Cestreham Lodge.
So what does Freemasonry mean to Martin? He says that initially, it can take a bit of time to 'get it', but once you do, it's an excellent way of learning more about yourself, your relationships and your position in society relative to your fellow man. Of course much of this is to do with honour, integrity and charity; charity being one of the main platforms of Masonic activity.
Martin is now retired and enjoys quality time with his children ( Nick & Tanya) grandchildren (2018-Isla 5 & Brock 3) as well as wider family and friends. He still plays regular games of racquetball and travels on quite a regular basis with his wife of 46 years, Jenny, particularly to Australia where their son lives.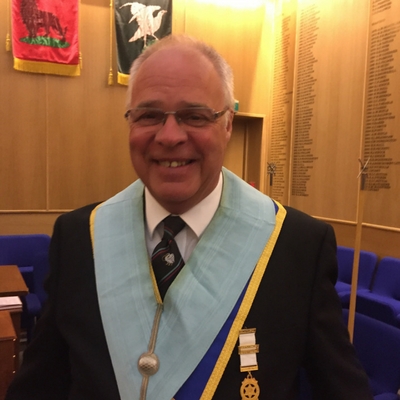 Bob Cawte – Assistant Director of Ceremonies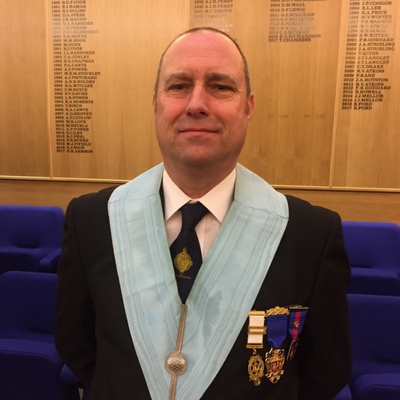 Stephen Booker – Senior Deacon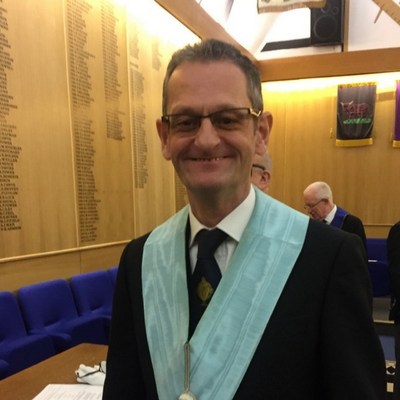 Mike Beckley – Junior Deacon
Mike was first introduced to Cestreham Lodge in 2016, being formally initiated early in 2017.
Mike has a had a diverse professional life. After studying at Buckinghamshire College of Higher Education (now Bucks New University) he spent 3 years as a Land Surveyor, 15 years in construction management, followed by 10 years in corporate sales. He is now semi retired, but has an active role in the management of Chiltern Hills Arboriculture, where he is a business partner.
Mike has a passion for travel, and at last count, has visited over 50 countries worldwide. He also enjoys cooking, eating out, photography, and music. In 2001 Mike completed a charity cycle ride of 400 kilometres through the Rift Valley in Kenya raising funds for Scope. In 2002, he completed a 500 kilometre cycle ride over the Andes in Ecuador raising funds for MacMillan Cancer Relief.
"When I was first invited to meet Cestreham Lodge, my natural curiosity got the better of me, so I accepted. I met a few long standing lodge members in the bar. It was interesting. I sat with a group of people who clearly have a wealth of life experiences, and discussed a great variety of topics. As a result, I joined the lodge and thoroughly enjoy my involvement. My engagement with Freemasonry has been very rewarding. It has given me further insight into charitable activity. Also, the support the craft offers to it's members is second to none. I am very much looking forward to my journey through Freemasonry, and ultimately, my year in The Chair"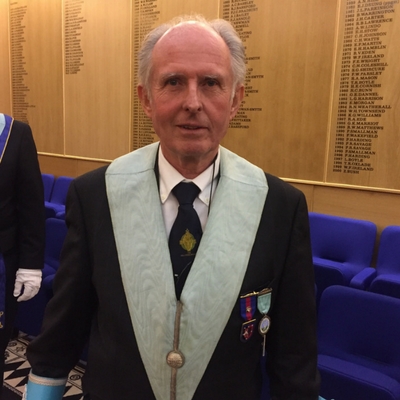 Bryan Peel – Assistant Secretary
Bryan is a Joining Member of Cestreham Lodge having being Initiated into Granite Lodge No:1328 in 1976. He is also a Member of Buckinghamshire Classic Car Lodge 9945 Since joining Cestreham Lodge in 2005 and progressed through the various Offices before being Installed Master in November 2013.
He is currently fulfilling the role of Assistant Secretary of the Lodge.
He is a supporter of The Masonic Charitable Foundation and Thames Valley Air Ambulance plus others.
Bryan has been Married to Rita for 48yrs and they have two Grown Up Children. Bryan is a Retired Chartered Building Surveyor [ FRICS ] having spent his Professional career working in Commercial Property. From being a Construction Project Manager he moved into Senior Management of Prudential Portfolio Managers Ltd as Director of Building Consultancy and Head of Prudential Health and Safety.
He ran his own Consultancy Practice for several years focusing on Major Incident Management and Disaster Recovery in Commercial Property and Shopping Centres ,before working Full Time at Retirement.
His Lifelong interest is Motorsport, having spent 5 yrs Racing Saloon Cars in the 1960's and latterly involved in Classic Car Racing. He is a Member of The Silverstone Racing Club and a Silverstone Season Ticked Holder. Other interests are Fly Fishing, Gardening, Travelling and Cruise Holidays plus Socialising.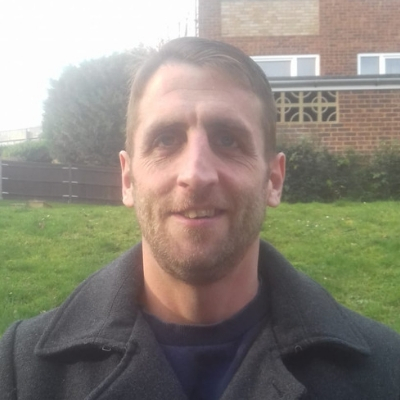 Danny Peacock – Steward
Danny was first introduced to Cestreham Lodge in 2017, being formally initiated early in 2018.
Father and Director C.H.A Danny has a passion for his family, community & work alike.
He's worked with various organisations to support the homeless sector whilst continuing to raise funds for different charitys  and projects.
"When My Business Partner first invited me to meet Cestreham Lodge, being curious about Freemansonary I attended one evening in October '17 to find some good friends of his who are of outstanding quality and charector, but just like me and you (ordinary) .
Being intriqued I attended for some time after until I was invited to join Cestreham and I am pleased to say they are now friends of ours".